8 Best Outdoor Swimming Places in the Helsinki Region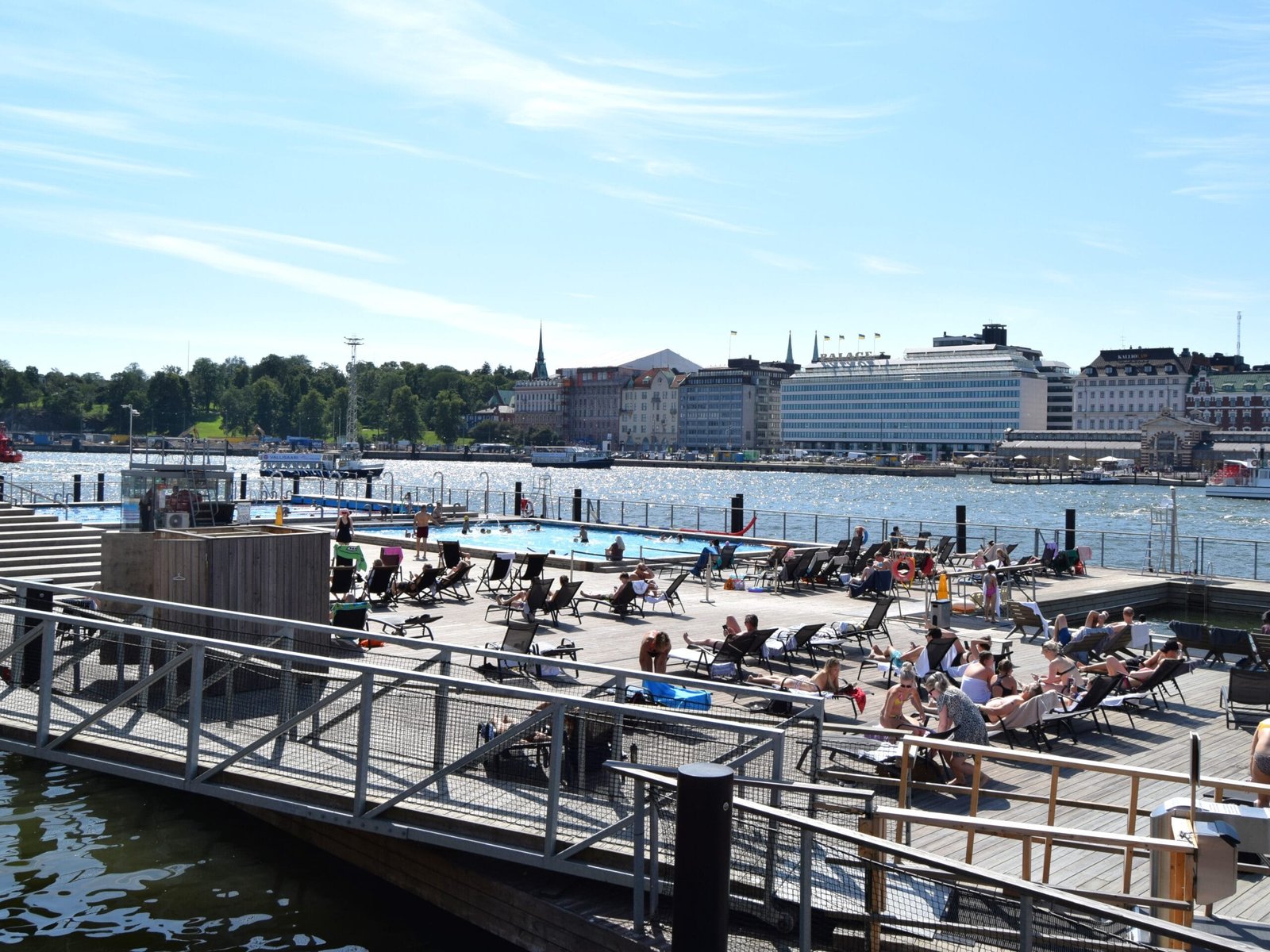 There are many outdoor swimming places in the Helsinki Region, where you can cool off and enjoy the Finnish summer to the fullest. From pristine lakes to heated pools, this article will guide you through a selection of refreshing pools and beaches. Some of these places are suitable for winter swimming too.
Open-air Pools
Allas Sea Pool
Allas Sea Pool is a popular attraction located in the heart of Helsinki a few steps away from Helsinki Cathedral. It offers visitors a unique experience of swimming and relaxation in a stunning outdoor setting no matter what is the outside temperature. The pool and saunas are floating on the sea, providing swimmers with breathtaking views of the surrounding landscape.
Allas Sea Pool has a large heated pool, perfect for both leisurely swims and water exercises and a colder sea pool. Additionally, there are several saunas available for visitors to enjoy, providing a traditional Finnish sauna experience. The pool area also features sun decks where people can soak up the sun and unwind.
Apart from swimming, Allas Sea Pool hosts various events and activities in the summer season, including concerts, yoga classes, and cultural festivals. It is a fantastic place for both locals and tourists to socialize, rejuvenate, and enjoy the vibrant atmosphere.
Allas Sea Pool is easy to reach because it lies in Helsinki Centre. Refreshing is not cheap since an entrance ticket costs almost 20 euros.
Swimming Stadium
Swimming Stadium, located almost in Helsinki Centre is a renowned sports venue known for its traditional swimming facilities. As the largest outdoor swimming stadium in the country, it offers a range of pools and amenities for both recreational swimmers and professional athletes. The stadium's Olympic-sized pool attracts visitors from around the world. With its beautiful architecture and historical significance, Swimming Stadium provides a unique and memorable experience for visitors. Whether it's for training, relaxation, or watching thrilling swimming competitions, the stadium remains a popular destination for water enthusiasts and sports lovers alike.
Since Swimming Stadium was built for Helsinki Olympics in 1952, it is not the most modern place anymore. However, it is still in good condition. There are lockable lockers and traditional saunas for both males and females. The pools are heated. The area hosts also a cafe and the atmosphere is surprisingly relaxing. As the city-owned swimming place, a ticket costs only about 5 euros so the stadium is the best swimming place for budget visitors. The pool can be reached from Helsinki Centre by walking in 30 minutes.
Swimming Stadium is open only in the summertime.
Kumpula Open-air Pool
Kumpula Open-Air Pool is a popular recreational spot located in the Kumpula district of Helsinki, Finland. It was built for Helsinki Olympics in 1952. The pool offers a unique swimming experience in a natural setting, surrounded by lush greenery.
The Kumpula Open-air Pool provides a perfect escape from the summer heat, allowing visitors to cool off and relax in a serene environment. The pool area also includes sunbathing areas, picnic spots, and a children's pool, making it an ideal destination for families. Naturally, there are also Finnish saunas.
In addition to swimming, visitors can indulge in various water activities such as diving and water slides. The pool area is well-maintained and offers facilities such as showers, changing rooms, and a café where visitors can grab a snack or a refreshing drink.
As a city owner pool, a ticket costs only about 5 euros. Kumpula Open-air Pool can easily be reached by public transport from Helsinki Centre. The pools are heated.
Leppävaara Open-Air Pool
Leppävaara Open-air pool, located in the Leppävaara district of Espoo, is a serene oasis for swimmers and sun-seekers alike. This pool offers a refreshing escape from the hustle and bustle of city life, surrounded by lush greenery and tall trees. With its crystal-clear waters and well-maintained modern facilities, it provides a delightful experience for visitors of all ages.
The heated pool boasts a large swimming area, perfect for both leisurely laps and playful splashing. The shallow section is ideal for families with young children, ensuring a safe and enjoyable environment. Sunbathers can relax on the spacious sun deck, soaking up the warm rays and embracing the peaceful ambience.
Leppävaara Open-air pool also offers convenient amenities, including showers, changing rooms, and a cafe serving snacks and refreshments. Lifeguards are always on duty, ensuring the safety of all swimmers. If the weather happens to be cold, it is always possible to warm up in a traditional Finnish sauna.
Leppävaara Open-Air Pool is located in Espoo. You need to take a commuter train to Leppävaara station and walk 15 minutes more to reach the pool. Even though Leppävaara is in Espoo, Zones AB are enough for public transport tickets. We think Leppävaara Open-air Pool is the best summer pool in the Helsinki region and the price is only about 5 euros.
Beaches
Hietaniemi Beach
Hietaniemi Beach, nestled in Helsinki, is a slice of paradise on the Baltic Sea. With its golden sand stretching for over a kilometre, it's an idyllic spot for sun-seekers and nature enthusiasts. The beach, also known as Hietsu, offers a vibrant atmosphere with a blend of locals and tourists enjoying the summer vibes. Take a dip in the refreshing waters, play beach volleyball, or simply relax on a beach towel, soaking up the Finnish sun. The surrounding parkland adds a touch of greenery, perfect for picnics and strolls. Hietaniemi Beach is not just a place to sunbathe; it's a social hub. Experience the unique charm of Hietaniemi Beach, where the beauty of nature meets the vibrant spirit of Helsinki.
As a public beach, Hietsu is free for anyone. The water may be a little cold and its temperature is seldom over 20 Celcius. The beach is only 15 minutes walk away from Helsinki Centre.
Kuusijärvi
Kuusijärvi is a picturesque lake located in Vantaa. Surrounded by lush greenery and tall pine trees, it is a paradise for nature lovers and an ideal escape from the hustle and bustle of city life. The warm waters of Kuusijärvi invite visitors to take a refreshing swim during hot summer days or indulge in activities like canoeing and paddleboarding. The sandy beach offers a perfect spot for sunbathing and relaxation, while the nearby nature trails provide an opportunity for hiking and bird-watching. In winter, the frozen lake transforms into a magical wonderland..
Kuusijärvi is also known for its traditional Finnish sauna culture, where visitors can experience the authentic Finnish smoke sauna experience followed by a refreshing dip in the warm or icy waters. With its natural beauty and tranquil atmosphere, Kuusijärvi is a hidden gem that offers a delightful retreat for locals and tourists alike. Using the beach is free. Saunas costs and you can buy drinks and food from the restaurant.
Kuusijärvi is in Vantaa but it can reached by bus in 50 minutes. You need Zones ABC to visit Kuusijärvi.
Matinkylä Beach
Matinkylä Beach is a beautiful coastal area located in Espoo. This sandy beach is a popular spot for locals and tourists alike, offering a peaceful and relaxing atmosphere.
The beach is well-maintained and offers various amenities for visitors to enjoy. There are picnic areas with tables and benches, perfect for a family outing or a cosy gathering with friends. The beach also has changing rooms and toilets available for the convenience of beachgoers.
Matinkylä Beach is not only a place to sunbathe and swim but also a hub for various water sports activities. Visitors can indulge in activities like kayaking, paddleboarding, and sailing, making the beach an ideal destination for adventure enthusiasts.
Surrounded by lush greenery and scenic landscapes, Matinkylä Beach provides a serene and picturesque setting for those seeking tranquillity. Whether you want to take a leisurely stroll along the shoreline, have a picnic by the water, or simply relax and soak up the sun, Matinkylä Beach has something for everyone.
We recommend Matinkylä Beach for people who stay in Espoo. Because the beach is quite far from Helsinki, it does not make sense to travel there. Using the beach is free but the services cost.
Lakes in Nuuksio
Swimming in Nuuksio National Park offers a refreshing and enchanting experience amidst the pristine natural surroundings. With its clear and calm lakes and tranquil waters, Nuuksio becomes an idyllic destination for nature enthusiasts. The park boasts numerous swimming spots that cater to every preference and skill level. Whether it's taking a leisurely dip or embarking on a thrilling swim across the lake, Nuuksio offers something for everyone. Immerse yourself in the cool, inviting waters and feel a sense of tranquillity wash over you as you connect with nature. Surrounded by lush forests and breathtaking landscapes, swimming in Nuuksio provides a unique opportunity to combine relaxation and adventure. Take a break from hiking or exploring the park's trails and savour the joy of swimming in these serene natural pools. Enjoy the invigorating sensation of the water against your skin and let the beauty of Nuuksio National Park embrace you as you indulge in this extraordinary aquatic experience.
Swimming in Nuuksio suits hikers who wish to rest now and then. The lakes are calm but there are no lifeguards on duty. It is important not to swim and hike alone in the Nuuksio area.
Bottom Line
Helsinki has numerous outdoor swimming places. Allas Sea Pool is the easiest choice but also the most expensive one. City-owned open-air pools are cheaper but they still offer good value for the money. Swimming in the sea and lakes is free but the water may be colder.
Allas Sea Pool is the only heated outdoor pool in the wintertime. In the summertime, the Helsinki region offers hundreds of natural places to dip in the water and a few heated pools. Helsinki really is a paradise for summer swimmers.
Leppävaara Open-air pool is our favourite. Visit also Hietsu since it's maybe the most crowded beach in Helsinki which makes it a hectic social hub.