Many travellers make the mistake of thinking that Helsinki doesn't have enough attractions to keep them engaged for more than a few days. However, the truth is that Helsinki is a city that offers a plethora of experiences that can easily fill up a week-long itinerary. From its rich cultural heritage to modern design and architecture, Helsinki has something for everyone. Additionally, Helsinki's culinary scene is a melting pot of local and international flavours, and its nightlife is vibrant and energetic. So, whether you're interested in exploring museums, strolling through parks, or indulging in delicious food, Helsinki has it all.
Below, we list the most popular attractions of Helsinki. They all can be reached easily by public transport or taxi. If you wish to see even more,  we advise you to visit Helsinki's neighbours cities, Espoo and Vantaa. GetYourGuide is a good starting point to find interesting tours.
Churches
Helsinki Cathedral
Helsinki Cathedral, also known as St. Nicholas' Church, is a stunning landmark in the heart of Helsinki, Finland. This is the church that you see on Helsinki postcards and Instagram selfies. Completed in 1852, the cathedral is one of the most iconic buildings in the city, with its striking domes and columns drawing visitors from all over the world.
Today, Helsinki Cathedral serves Evangelical Lutheran Church, as well as a popular tourist destination and an important cultural landmark. Whether you're interested in history, architecture, or simply breathtaking views, a visit to Helsinki Cathedral is not to be missed. And did you know, the church is also one of the most popular wedding places in Helsinki?
Helsinki Cathedral is located in the heart of Helsinki so it can be easily reached with multiple tram lines. 
Uspenski Cathedral
Uspenski Cathedral is a magnificent Eastern Orthodox cathedral. Completed in 1868, the cathedral is a testament to the city's Russian influence during the 19th century. Its distinctive red brick facade and golden onion domes make it a prominent landmark in the cityscape, and it is widely regarded as one of Helsinki's most impressive architectural wonders.
The cathedral is named after the Dormition of the Mother of God, which is celebrated in the Orthodox Church. Inside, visitors can marvel at the stunning frescoes and intricate mosaics that adorn the walls and ceilings. The centrepiece of the cathedral is the iconostasis, a screen of icons that separates the altar from the nave.
For those interested in history and religion, a visit to the Uspenski Cathedral is a must. Its beauty and grandeur are truly awe-inspiring, and it remains an important symbol of the city's rich cultural heritage.
Uspenski Cathedral is only a few steps away from Helsinki Cathedral.
Temppeliaukio Church
Temppeliaukio Church, also known as Church of the Rock, is one of the most unique and awe-inspiring attractions of Helsinki. Built directly into solid rock, this modern marvel of architecture and design is an impressive sight to behold. The church's interior is illuminated by natural light that pours in, creating a warm and inviting atmosphere. The walls of the church are made of raw rock, which gives the space a natural and grounding feel. Whether you're a lover of architecture, and music, or simply seeking a peaceful place to reflect, Temppeliaukio Church is a must-see destination for anyone visiting Helsinki.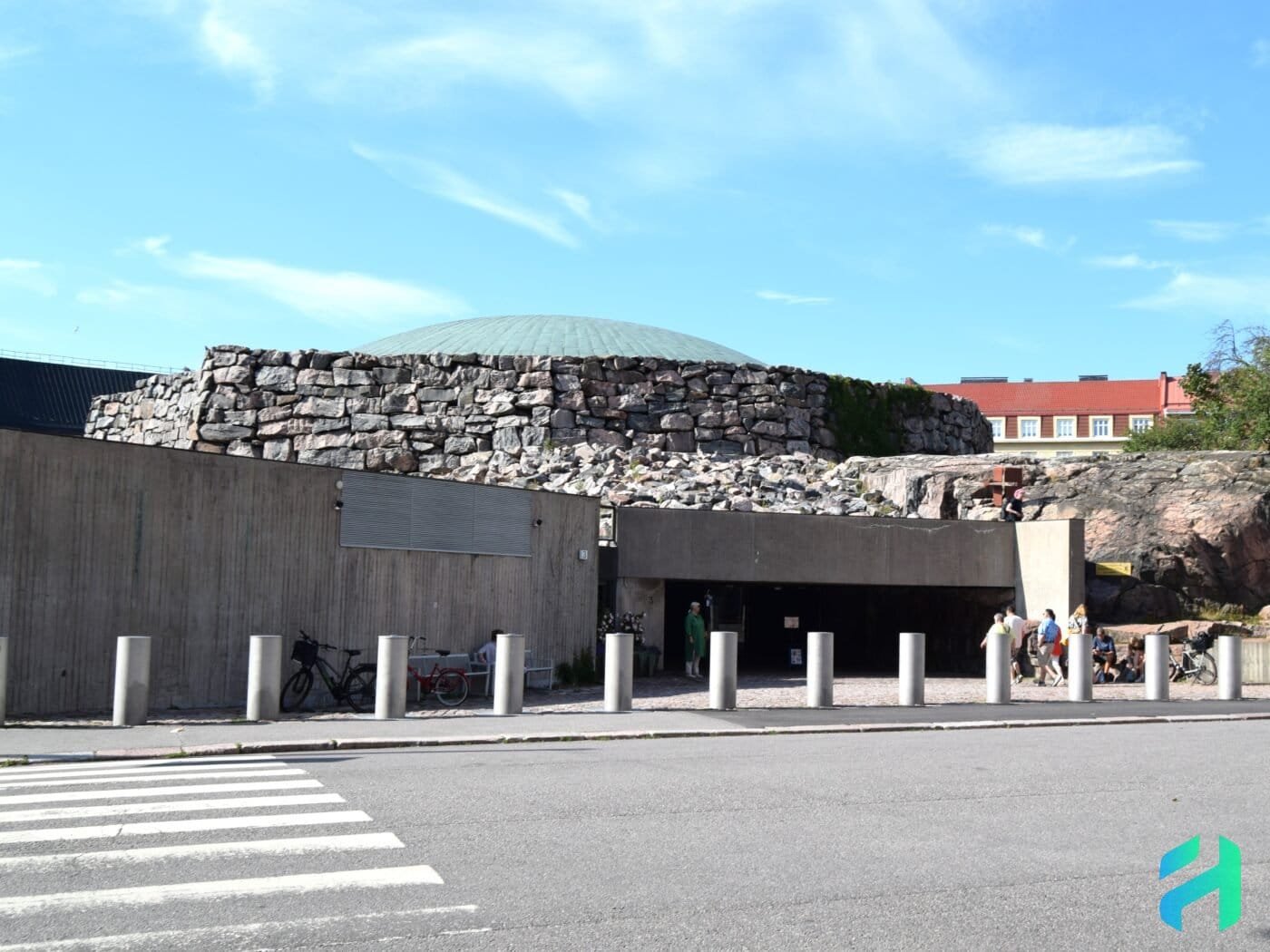 Also, Temppeliaukio Church is in the city centre and it can be reached by tram.
Islands
Suomenlinna Fortress
Suomenlinna Fortress is a UNESCO World Heritage Site located on an island off the coast of Helsinki, Finland. Originally built in the mid-18th century by the Swedes, it was later expanded by the Russians and played a crucial role in the defence of Helsinki during the Crimean War. 
Today, visitors can explore the fortress and its eight islands, which feature a mix of military history and natural beauty. From the King's Gate and the Great Courtyard to the numerous museums and exhibitions, Suomenlinna Fortress offers a fascinating glimpse into Finland's past. Whether you're interested in history, or architecture, or just want to experience the stunning views of the Baltic Sea, Suomenlinna Fortress is a must-see destination that should not be missed.
To reach Suomenlinna, you need to take an HSL-operated public ferry (Zones AB) or a private ferry from Helsinki Market Square. Private ferries are a little more expensive but they have better service onboard. If you hold an HSL day ticket, take the public ferry operated by HSL so you would not need to pay a separate ticket.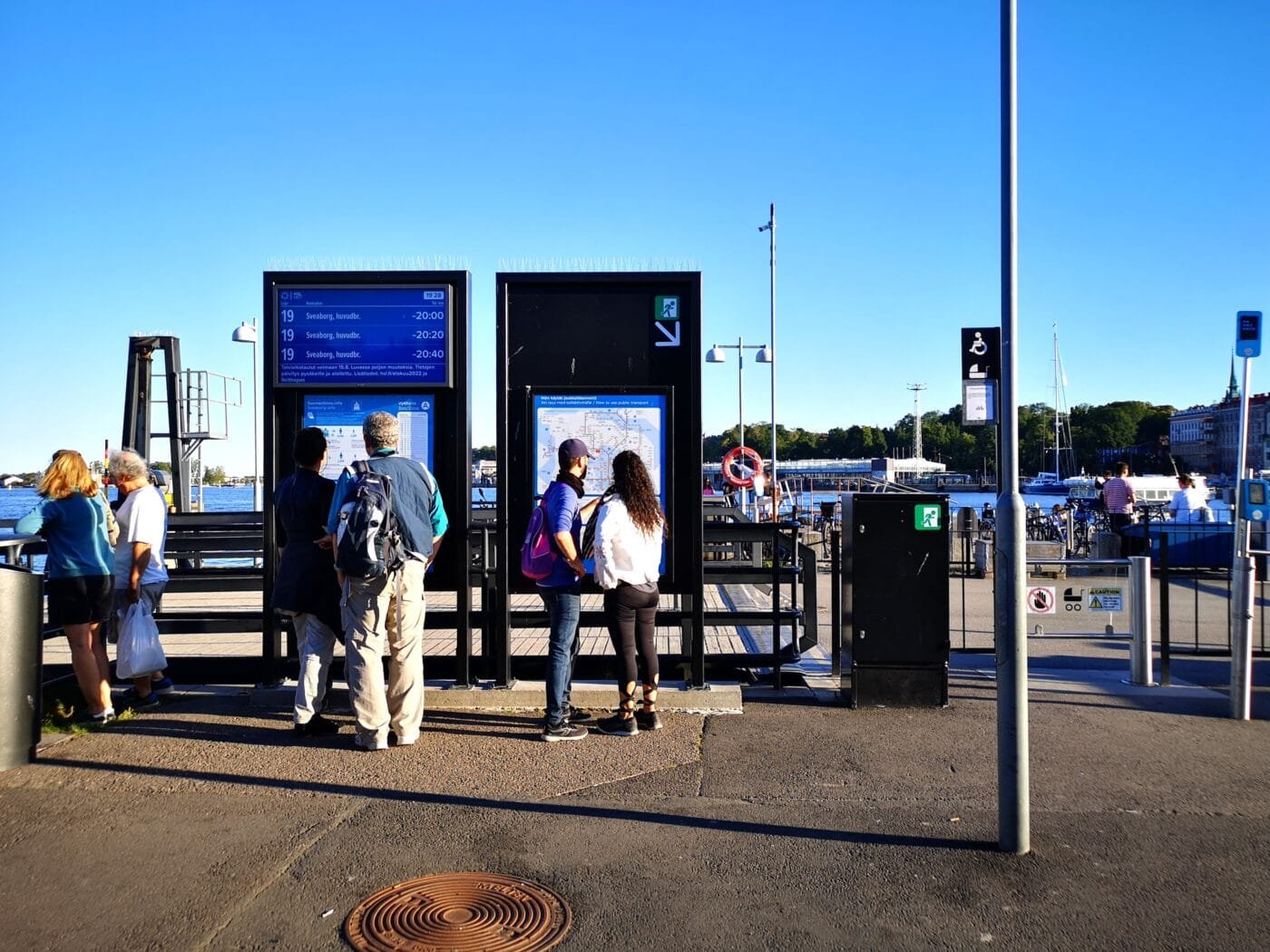 Vallisaari
Vallisaari, a picturesque island located just off the coast of Helsinki, Finland, has emerged as a must-visit destination for tourists and locals alike. Steeped in rich history and unparalleled natural beauty, this once-military stronghold now serves as a tranquil oasis for nature lovers and history enthusiasts. Accessible via a short boat ride from Helsinki's bustling city centre, Vallisaari boasts a diverse array of flora and fauna, stunning coastal landscapes, and well-preserved historical landmarks. The island's unique blend of natural charm and cultural heritage makes it the perfect getaway for those seeking respite from the urban hustle and a glimpse into Finland's fascinating past.
Vallisaari is just next to Suomenlinna. To save time, we recommend doing island hopping. First visiting Vallisaari and then Suomenlinna. There is no public ferry to Vallisaari so you need to buy a ticket from a private ferry operator whose departure is from Helsinki Market Square.
Pihlajasaari, a picturesque island located off the coast of Helsinki, Finland, is a hidden gem that offers a serene getaway from bustling city life. Characterized by its pristine sandy beaches, lush green forests, and rocky shores, Pihlajasaari is a popular destination for locals and tourists alike who are seeking relaxation, leisure, and outdoor activities. Accessible by a short ferry ride from Helsinki's mainland, the island provides an idyllic setting for sunbathing, swimming, picnicking, and exploring nature trails. 
The charming wooden villas that dot the landscape further enhance the island's allure, making Pihlajasaari a must-visit destination for those looking to experience the unspoiled beauty of the Finnish archipelago.  What makes this island unique from the others is it has a unisex nudist beach, one of the only two nudist beaches in entire Finland. The other one is in Pori, a city located on the west coast of Finland.
To access Pihlajasaari, you need to take a private ferry operated by JT-Line through the departure docks in Ruohosaari or from Merisatama, located in the southern tip of Helsinki in the districts of Kaivopuisto and Ullanlinna. 
Seurasaari
Seurasaari, a serene oasis in Helsinki, is an enchanting island retreat that takes visitors on a fascinating journey through Finnish history and culture. Connected to the mainland by a charming wooden bridge, this tranquil haven boasts an open-air museum that showcases well-preserved examples of traditional Finnish architecture, transporting guests to a bygone era. As you stroll through the lush forests and charming wooden pathways, you'll encounter various historical buildings, including farmhouses and manor houses, that provide a captivating insight into the lives of Finns from centuries past. With its blend of natural beauty, cultural heritage, and peaceful atmosphere, Seurasaari is a must-visit destination for anyone seeking to experience the authentic charm of Finland within the bustling city of Helsinki.
To access Seuraasaari, you need to take Bus 24 to its end station. Then you cross the bridge by walking and you will be on Seurasaari.
City Views
Töölö Bay
Töölö Bay, situated in Helsinki, Finland, is a serene and picturesque urban oasis nestled amidst the bustling city. This idyllic body of water is surrounded by lush green parks and a variety of cultural and historical landmarks, such as the Finlandia Hall, the National Museum of Finland, and the Helsinki Music Centre. Töölö Bay is a beloved destination for both locals and tourists alike, providing a tranquil retreat for picnics, strolls, and wildlife spotting, including a diverse range of birds and the occasional squirrel. It's captivating beauty and central location make Töölö Bay an unmissable gem in the heart of Helsinki.
Töölö Bay is the area next to Central Railways Station so you can choose a nice-looking route and stroll around peacefully.
Esplanade
Esplanade is one of the most famous landmarks in Helsinki. It is a popular park located in the centre of the city that stretches from Market Square to Mannerheimintie Street. Esplanade is a perfect destination for both tourists and locals to enjoy a peaceful stroll, have a picnic, or just a people-watch.
The park is beautifully landscaped with lush green lawns, colourful flower beds, and stunning fountains. The park is divided into two sections: the Southern and the Northern Esplanade. The Northern Esplanade is the livelier of the two, with a wide range of restaurants, cafes, and shops lining the street. Visitors can enjoy a cup of coffee, a delicious meal, or shop for souvenirs while enjoying the lovely ambience of this bustling street.
In contrast, the Southern Esplanade is more tranquil, with a more natural setting. The park offers plenty of benches where visitors can sit and relax while taking in the scenic beauty around them. The beautiful bandstand located in the middle of the park is a perfect spot for various musical performances and other events.
Esplanade is also famous for its various statues and monuments, including the famous statue of Johan Ludvig Runeberg, Finland's national poet. Other notable statues in the park include the statue of Eino Leino, a Finnish poet, and the statue of Zacharias Topelius, a famous writer. The park is also home to several beautiful fountains, including the Havis Amanda Fountain, which is a popular spot for tourists to take pictures.
Since Esplanade is in the middle of Helsinki, it is best reached by foot. Market Square and Helsinki Cathedral are only a few steps away.
Esplanade is a peaceful park in the Helsinki centre. Locals and travellers love to stroll and enjoy coffee or ice cream
Malminkartano Hill
Malminkartano Hill is a popular destination for outdoor enthusiasts in Helsinki. Rising over 90 meters above sea level, it is the highest point in the city, offering stunning views of the surrounding landscape. The hill is located in the Malminkartano district and is easily accessible by public transportation. Visitors can hike or bike up the hill on well-maintained trails, or simply enjoy a picnic with friends and family while taking in the breathtaking scenery.
Malminkartano Hill is a must-visit destination for anyone looking to escape the hustle and bustle of the city and enjoy some outdoor activities in a beautiful natural setting. With its recreational opportunities, it is no wonder that this hill has become a beloved spot for nature lovers in Helsinki.
Since Malminkartano Hill is located in a district far for Helsinki Centre, travellers are not usually finding it. The hill can be reached by taking a train to Malminkartano Station and walking 10 minutes more or by a direct bus connection from Kamppi Bus Station.  If you arrive by car, there is a wide parking area at the base of the hill. Parking is free.
Museums
Ateneum Art Museum
Ateneum Art Museum in Helsinki is a beacon of artistic brilliance nestled in the heart of Finland's bustling capital city. As one of the most prestigious art institutions in the country, the Ateneum is home to an extensive collection of Finnish and international masterpieces that span centuries. This iconic museum invites visitors to embark on an enriching journey through the history of art, providing a captivating window into the creative minds that have shaped our world. Whether you're an art aficionado or a curious explorer, the Ateneum Art Museum Helsinki offers a visually stunning and intellectually stimulating experience that will leave you inspired and enlightened.
Ateneum is in the city centre a few steps away from Helsinki Central Railway Station.
Kiasma Museum of Contemporary Art
Kiasma Museum of Contemporary Art is a renowned museum located in Helsinki, Finland. The museum exhibits contemporary art from both Finland and around the world, showcasing a diverse range of art forms, including paintings, sculptures, video installations, and performance art. Kiasma is also known for its innovative approach to exhibiting art, with its unique architecture and use of technology to create immersive experiences for visitors. It is a must-visit destination for art lovers visiting Helsinki.
Kiasma is the centre only a few minutes from Central Railway Station.
The National Museum of Finland
The National Museum of Finland is a fascinating place to explore the country's rich history and cultural heritage. Located in the heart of Helsinki, the museum houses a vast collection of artefacts and exhibits that showcase Finland's development from prehistoric times to the modern era. Visitors can marvel at the intricately designed medieval churches, marvel at the stunning collection of folk art and learn about the country's struggles for independence. With its interactive displays and engaging exhibits, the National Museum of Finland is a must-visit destination for anyone interested in the country's past and present.
The National Museum of Finland is in the centre. From Central Railway Station, you need to walk to Mannerheimintie (Helsinki's main street) and walk 5 to 10 minutes more to reach the museum.
The Helsinki City Museum
The Helsinki City Museum is a museum located in the heart of Helsinki, Finland. It is dedicated to preserving and showcasing the history of the city and its people. The museum features a range of exhibits, including photographs, artefacts, and interactive displays that offer visitors a glimpse into the city's past. Some of the highlights of the museum include an exhibit on Helsinki's growth as a city, a section dedicated to the city's architecture, and displays on the everyday lives of Helsinki residents throughout the years. The Helsinki City Museum is a must-visit for anyone interested in the history and culture of this vibrant city.
The Helsinki City Museum is in the centre near Senate Square. It can be reached easily by walking from the central railway station.
The Finnish Museum of Natural History
The Finnish Museum of Natural History is a fascinating place to learn about Finland's natural world and its history. Located in Helsinki, the museum is home to a vast collection of specimens, including plants, animals, rocks, and fossils. Visitors can explore exhibits on the country's geology, flora, fauna, and biodiversity, as well as its history of scientific research. The museum also features interactive displays and activities for children, making it a great destination for families. Anyone interested in nature and science should add the Finnish Museum of Natural History to their list of must-visit attractions.
The Finnish Museum of Natural History is in the city centre. It can be reached easily by tram or on foot.
Sibelius Monument
The Sibelius Monument is a landmark in Helsinki dedicated to the famous composer Jean Sibelius. It was designed by Eila Hiltunen and unveiled in 1967. The monument is made up of more than 600 hollow steel pipes welded together to resemble a wave, which is meant to symbolize the essence of Sibelius's music. It is located in Sibelius Park, a popular tourist destination.
The monument stands over 24 feet tall and is admired for its unique design and striking appearance. The pipes are of varying sizes and lengths, with the longest measuring over 27 feet.
Visitors to the park can walk around and through the monument, which creates a sense of participation and interaction with the artwork.
The Sibelius Monument has become an iconic symbol of Helsinki and is a popular destination for tourists and locals alike. It is also a tribute to one of Finland's most celebrated cultural figures, Jean Sibelius, whose compositions are known all over the world.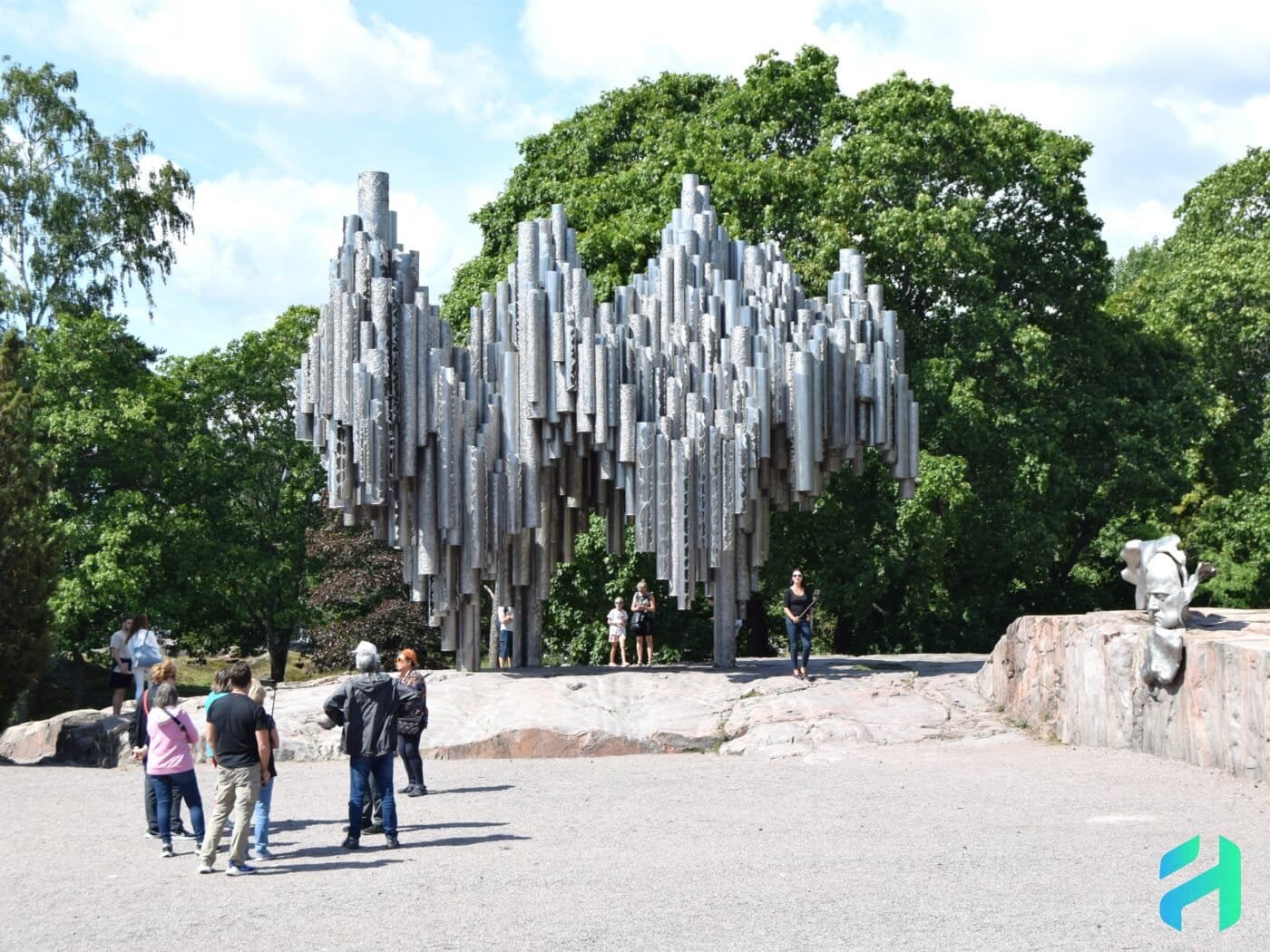 The monument is a few kilometres out from the city centre but it can be easily reached by tram. Around the monuments, there is a nice sea view and we recommend visiting Cafe Regatta.
Fun
Linnanmäki Amusement Park
Linnanmäki Amusement Park is a popular attraction. It features a variety of rides and attractions, including roller coasters, carousels, and games. The park is known for its family-friendly atmosphere and is a great place to spend a day with loved ones. In addition to the rides, Linnanmäki also hosts concerts and other events throughout the year. With its fun-filled environment and exciting rides, Linnanmäki is a must-visit destination for anyone visiting Helsinki. There is no entrance fee but the rides cost.
Linnanmäki is a few kilometres from the city centre. The best way to reach it is to take a tram.
Korkeasaari Zoo
Korkeasaari Zoo is a popular tourist attraction located on an island in Helsinki, Finland. The zoo is known for its wide variety of animals including Arctic animals, big cats, and primates. Visitors can enjoy watching the animals in their natural habitats and take part in various animal encounters. The zoo also offers educational programs for children and adults, as well as guided tours and events throughout the year. With its beautiful scenery and diverse wildlife, Korkeasaari Zoo is a must-visit destination for animal lovers and families.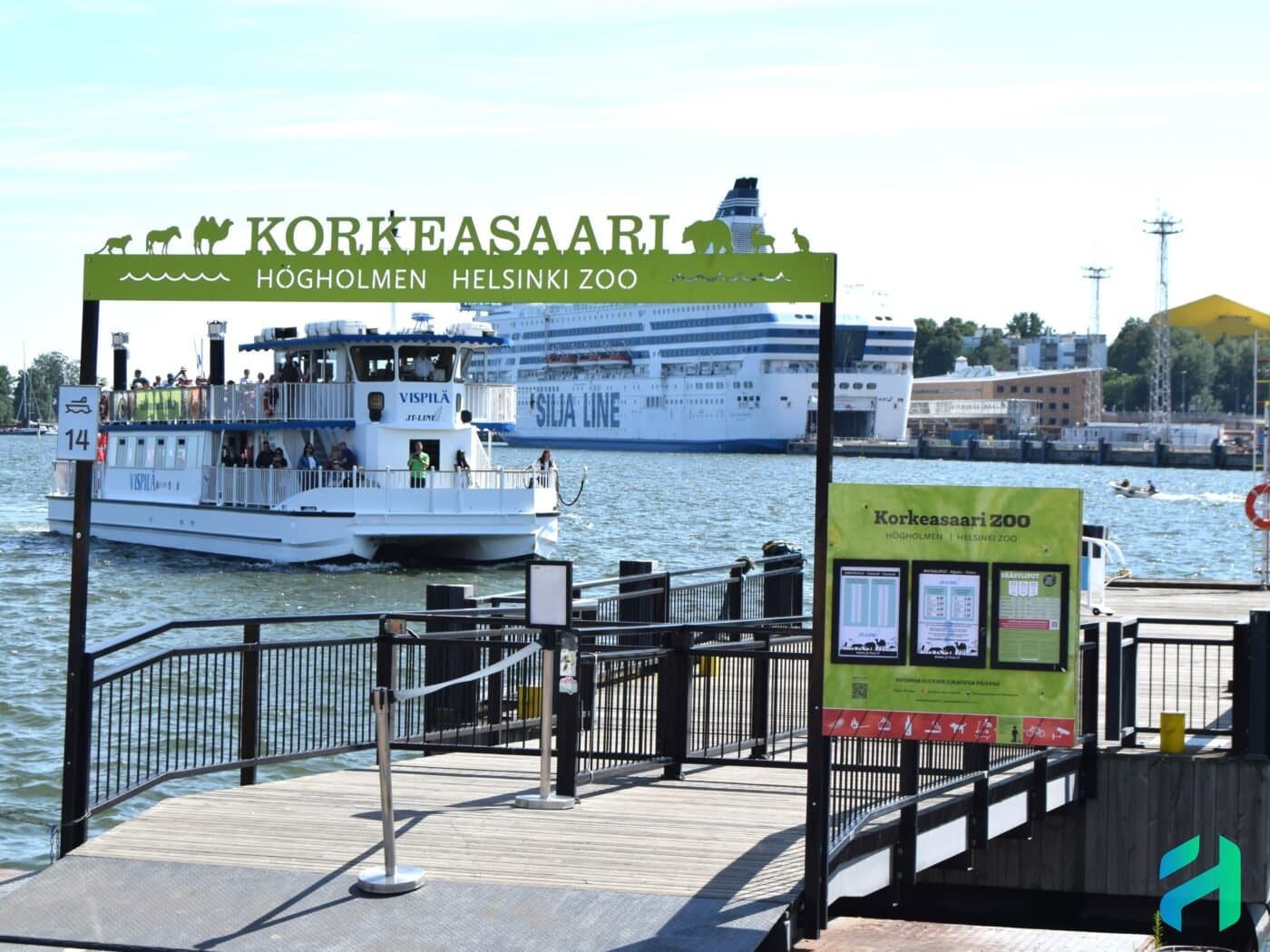 Korkeasaari is on an island. We recommend taking a private ferry from Market Square to the zoo. However,  there is also a bus connection available.
Shopping
Old Market Hall
The Old Market Hall is a historical landmark located in the heart of Helsinki. Built in 1889, it has served as a market hall for over a century, offering a wide range of fresh produce and local delicacies. Today, the hall is a bustling hub of activity, attracting both locals and tourists alike with its unique charm and lively atmosphere. Whether you're in the mood for some fresh seafood, artisanal cheeses, or traditional Finnish pastries, you're sure to find something to delight your taste buds at Old Market Hall. This is also a good place to do grocery shopping to bring home some of the local produce.
Old Market Hall is near Market Square. From there, you need to walk only a few steps to reach Old Market Hall.
Stockmann
Stockmann is a department store that has been operating since 1862. Founded by Georg Franz Stockmann, it started as a modest textile shop and grew into one of the largest and most famous retail establishments in Finland. The store offers a wide range of products, from clothing, cosmetics, and accessories to home appliances, furniture, and electronics. Stockmann is known for premium products which makes it quite an expensive place for shopping.
Stockmann is not only renowned for its extensive selection of high-quality goods but also for its exceptional customer service. The staff is knowledgeable, friendly, and helpful, making shopping a pleasant experience. The store also hosts various events and exhibitions, making it an exciting destination for locals and tourists alike.
Stockmann is not just a store but a cultural institution that has become an integral part of Finnish society. It represents quality, reliability, and tradition while embracing innovation and modernity.
Stockmann is at Helsinki Centre on Aleksanterinkatu. It can be easily reached on foot while visiting the other attractions situated nearby.
Malls
Helsinki has a wide variety of malls to choose from. They offer comfort and convenience, especially during bad weather. We list the five most popular malls in Helsinki.
Kamppi Mall is a big and modern mall. It has a wide range of stores and restaurants, making it a popular shopping destination for locals and tourists alike. The central bus station is below the mall.
Forum Mall, situated on Mannerheimintie, may be smaller than Kamppi Mall, but it has many affordable restaurants downstairs. It's a great spot for a quick lunch or a coffee break.
REDI Mall is just a 10-minute metro ride away from Helsinki Centre. It boasts modern architecture and features a movie theatre, shops, and restaurants. However, its navigation can be challenging, so reserve enough time for your visit.
Tripla Mall is the newest and one of the largest shopping malls in Helsinki. It is conveniently attached to Pasila Railway Station and just a 4-minute train ride away from Helsinki Central Railway Station. Tripla Mall has many stores, a good selection of restaurants, and various activities for all ages.
Itäkeskus Mall is located in Eastern Helsinki and takes about 25 minutes to reach by metro. While it's a great option for those staying in the area, it may not be worth the travel time for others.
Saunas
Sauna is a strong part of the Finnish culture which you shouldn't miss during your stay in Helsinki. A sauna is a place for relaxation, socializing, and self-care. It is believed to have many health benefits, such as reducing stress and improving circulation. We list here the most popular sauna place in Helsinki. 
Löyly
Löyly is a unique urban sauna and restaurant located almost in the heart of Helsinki, Finland. It offers visitors a chance to experience the traditional Finnish sauna culture in a modern and sustainable setting. The design of the building reflects the natural landscape of the surrounding area, with its wooden exterior and panoramic views of the Baltic Sea. Löyly's sauna experience is unlike any other, with a range of different saunas to choose from, including traditional smoke saunas and wood-burning saunas. After a relaxing sauna session, guests can cool off in the sea. The restaurant at Löyly offers a variety of delicious Finnish dishes made with locally sourced ingredients.
Löyly is a few kilometres from the city centre. The easiest way to reach is to take a bus.
Kotiharjun Sauna
Kotiharjun Sauna is a traditional Finnish public sauna located in a private housing building. It is a wood-fired sauna which means the heat is generated by burning wood. The sauna is situated on a hill, called Harju, hence the name Kotiharjun Sauna. The sauna is open to both men and women, and it has separate dressing rooms for both. Once inside, you can enjoy the heat and steam and then cool off on the outdoor terrace. Kotiharjun is a perfect place to relax and unwind in the middle of the bustling city.
Kotiharjun sauna is a few kilometres from the centre. You can reach it by metro or tram in 10 minutes.
Kulttuurisauna
Kulttuurisauna is a unique Finnish public sauna located in Helsinki. The sauna is designed to provide a peaceful and relaxing environment for visitors to unwind and escape the stresses of everyday life. The building itself is a work of art, with its minimalist design and use of natural materials. The sauna is heated by a wood-burning stove, which adds to the rustic charm of the experience. Visitors can cool off in the outdoor courtyard between sauna sessions or take a dip in the sea. Kulttuurisauna is a must-visit for anyone looking for an authentic Finnish sauna experience.
Kulttuurisauna is close to Kotiharjun sauna. Also, it can be reached by metro or tram.
Sauna Hermanni
Sauna Hermanni is a traditional Finnish sauna located in the heart of Helsinki. Sauna Hermanni has been operating for over 50 years and is known for its authentic Finnish sauna experience. Despite not being the most modern sauna in Helsinki, there you can feel the vibes of its long history.
The sauna experience at Sauna Hermanni is genuinely authentic, with a strong emphasis on the Finnish sauna culture. 
Sauna Hermanni is a little away from the Helsinki Centre so you need to take a tram ride to visit it. In contrast to the more popular, modern Löyly, Sauna Hermanni is more authentic and affordable.